How many of us ex-military folks are missing the benefits we used to have? Ten percent discounts were flung at us left and right, we could always bring the amount of luggage we needed and airport lounge access was often complimentary.
Although active-duty military still reserve most of the benefits for being in the armed forces, there's one airline that shines above the rest when it comes to supporting veterans: Allegiant Air.
Although it's a low-cost carrier, it provides a ton of benefits for those who have served. Let's take a look.
What is Allegiant Air?
Founded in 1997, Allegiant Airlines serves over 100 destinations within the U.S., some near to Canada. As it's a low-cost airline, you'll find extremely cheap airfare.
However, you'll also be on the hook for all kinds of additional fees, such as carry-on bag fees, checked luggage fees and even a fee for printing your boarding pass at the airport.
This is in the same vein as fellow low-cost carriers Frontier Airlines and Spirit Airlines. However, while Frontier and Spirit will offer some limited benefits to those who are on active duty, the same can't be said for veterans. Allegiant, meanwhile, maintains nearly all the same perks for those who are active, reserve or veterans.
Where does Allegiant fly?
Allegiant is unique in that it offers only nonstop flights. It does not sell tickets on connecting routings, although it's possible to create your own layover by booking separate tickets. Keep in mind, however, that Allegiant charges per leg, so if you're paying for seats or otherwise incurring charges you'll have to do so twice.
Otherwise, Allegiant's interactive route map allows you to discover all the different airports to which it flys.
You'll also want to be aware that some of Allegiant's routes are seasonal, which means they aren't always available.
Benefits for veterans
So, what benefits do veterans actually end up with when flying Allegiant? There are plenty:
Up to two pieces of checked baggage for free; up to 99 pounds each.

No charge for oversized bags; maximum linear size is 115 inches.

Free boarding pass printing at the airport. 

Early boarding. This applies to all passengers traveling on a single itinerary with the military member. 
Note that spouses and dependents with a valid military dependent ID will also qualify for these benefits if traveling on the same itinerary.
Benefits for active-duty military
While Allegiant does a lot for veterans, it does even more for those who are active duty.
In addition to all of the above perks, active-duty and reserve members of the military are also able to change or cancel their flights without a fee if there's been a change in their orders.
ID required for benefits
You don't need to have a veteran ID card or a DoD Common Access Card (CAC) to take advantage of Allegiant's military discounts, as there are a number of forms of ID that can be accepted. These include:
DOD Common Access Card (CAC).

DD Form 1173-1 (dependents only if traveling with military honoree).

Uniformed Services ID Card or driver's license with a veteran designation on it at the airport during check-in.
Save money on Allegiant flights as a veteran
So how do these savings stack up in a real-life scenario?
Let's use a nonstop flight from Phoenix/Mesa to Houston-Hobby on Allegiant Air for mid-October:

For a round-trip itinerary, you'll pay $85. This is a third of the price you'd pay for a comparable flight on Southwest Airlines, which is the only other airline to offer nonstop flights on this route.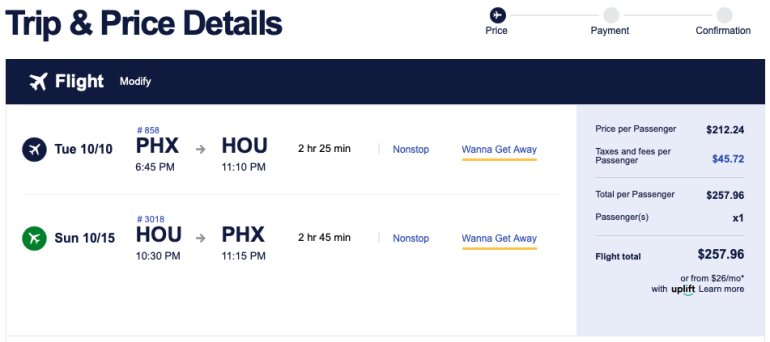 Of course, Southwest Airlines allows you to bring two free checked bags (up to 50 pounds each) and a carry-on without being charged.
As a veteran, active-duty or reserve member of the military, however, you're entitled to all those additional benefits on Allegiant. This means you can bring two free checked bags (up to 99 pounds), and a free carry on as well.
And say that you're wanting to bring your pet with you. Southwest charges $125 each way to do so, while Allegiant will allow you to bring one for free as part of its military discount.
Here's how all the pricing shakes out. Note that the cost for bags on Allegiant is variable; the amount you'll pay will run as high as $75 per bag depending on when you check and the route you're flying. For this comparison, we will use the price charged if paid during booking.
| | | Allegiant Air (non-military) | |
| --- | --- | --- | --- |
| | | | |
| | | | |
| | | | |
| | | | |
| | | | |
As you can see, Allegiant beats out Southwest Airlines even when you're not getting any military benefits.
However, when you factor in the fees that are waived as a veteran, active-duty or reserve member of the military, your savings skyrocket. In this case, you'll be saving more than 80% compared to flying Southwest.
Allegiant is the best airline for veterans
Look, no one books a ticket on a low-cost carrier expecting high-class service. Allegiant will get you to your destination at rock-bottom pricing, which is the best you'd usually hope for when booking these types of flights.
However, the perks afforded to those who've served are truly in a class of their own. You might still be aboard an Allegiant Air flight, but you, your luggage and your pet can all come aboard for nearly nothing thanks to Allegiant's unusually generous military discount policy.
How to maximize your rewards
You want a travel credit card that prioritizes what's important to you. Here are our picks for the best travel credit cards of 2023, including those best for: