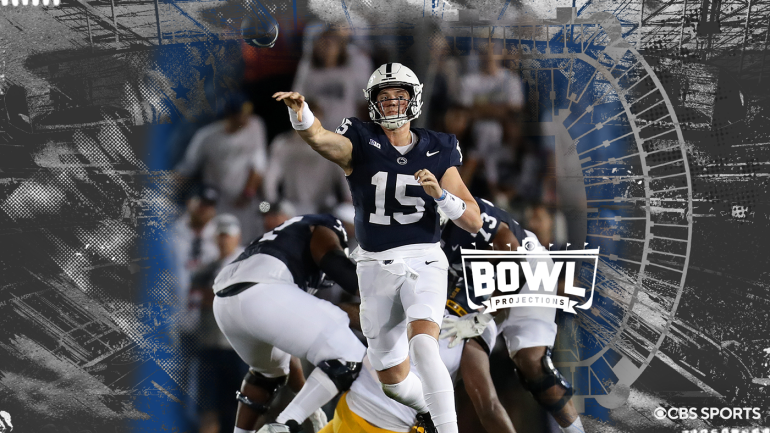 Florida State's dominant victory over LSU on Sunday has caused some shuffling among the New Year's Six bowl projections. This as the College Football Playoff projection remains unchanged as Week 1 of the 2023 season wraps up.
While the Seminoles move up to No. 5 in the projected CFP Rankings and remain slotted for the Orange Bowl, the Tigers move out of the Orange Bowl projection but remain in a New Year's Six game after their defeat. Now, LSU is projected to face USC in the Cotton Bowl.
Penn State moves into Orange Bowl as the highest-rated team among those available from the Big Ten, SEC and Notre Dame. When the Big Ten is in the Orange Bowl, the ACC gets the Big Ten's spot in the ReliaQuest Bowl, so the bowl projections for each of the teams in those conferences have been shuffled due to that switch.
Georgia, Michigan and Alabama all won easily against overmatched opponents to retain the top three seeds. Indiana made projected No. 4 seed Ohio State work a little harder in a 23-3 win on the road.
Washington demolished Boise State, 56-19, in Seattle. While I generally do not like overreacting to Week 1 results, it is hard to ignore that score. It is the kind of result that could lead to the Broncos missing out on a New Year's Six game if the Group of Five representative is a competitive race down the stretch, as I expect it will be. As such, Tulane is now being projected to return to the New Year's Six.  
The Huskies figure to benefit from that result as well as they become the second Pac-12 team in the New Year's Six facing the Green Wave in the Fiesta Bowl. Washington's ascension to the New Year's Six projection knocked out Kansas State.
College Football Playoff
Jan. 8

National Championship
Houston

Title game
Semifinal winners

Jan. 1

Rose Bowl
Pasadena, Calif.

Semifinal

(2) Michigan vs. (3) Alabama 

Jan. 1

Sugar Bowl
New Orleans

Semifinal

(1) Georgia  vs. (4) Ohio State
New Year's Six bowl games
There are only 79 teams expected to be bowl eligible this season, which makes room for three teams to get in with 5-7 records. This week, those teams are Wake Forest, Boston College and Michigan State. As a reminder, those teams are chosen based on the most recent APR rankings. Last season, Rice became the first 5-7 team to play in a bowl game due to a lack of eligible teams since 2016.

Don't see your team? Check out Jerry Palm's complete bowl projections as Week 1 reaches its conclusion.