Getting ahold of a customer service representative can be a challenge, especially when it comes to large corporations with many departments. Hilton offers several ways for guests to receive assistance, including by phone or email, through the hotel's app, or online.
Here's how to contact Hilton hotel customer service so you can get your questions answered quickly.
Contact Hilton customer service by phone
If you need to reach a Hilton customer service representative, you can contact them by phone. While you can find a list of global Hilton customer service numbers on the hotel chain's website, the main Hilton customer service number for U.S.-based travelers is 888-4HONORS (888-446-6677).
Elite status members get their own dedicated Hilton Honors customer service phone number at 800-4HONORS (800-446-6677).
Note that hold times can vary based on call volume, and not all of Hilton's customer service numbers outside of the U.S. are toll-free. Check Hilton's website to find out whether the number you plan on calling is toll-free.
We recommend contacting Hilton by phone for time-sensitive or complex issues or questions.
For example, a phone call would be best if you accidentally booked a nonrefundable stay at the wrong hotel or if you noticed incorrect charges on your hotel bill.
Contact Hilton customer service online
If you need Hilton customer service assistance that isn't time-sensitive — like changing the name on your account or leaving feedback about a recent stay — you can reach out to Hilton customer service online.
On the Hilton customer service page, you'll see a "How can we help?" search bar at the top followed by a form to submit a question or comment and your contact information.
For more general questions — such as "How do I look up an existing reservation?" or "Hotel information and policies" — you can start by either entering your question into the "How can we help?" toolbar or by clicking "Chat Now" on the right side to be connected with a virtual assistant.
The "Chat Now" virtual assistant feature is beneficial because it answers basic questions and can connect you to a live customer service representative. By typing "Can you connect me to an agent?" you'll be connected to one, although wait times can vary.
At the Hilton customer support site, you can also submit your question, comment or issue by filling out a few basic pieces of information, including your contact information.
After submitting the form online, you'll get a confirmation message letting you know approximately how long it will take for Hilton to respond. In the example below, Hilton states its goal is to respond within seven to 10 days.

Contact Hilton customer service through the Hilton app
One of my favorite ways to contact Hilton customer service is through the Hilton app. When you open the Hilton app, click the "Help" button in the bottom right corner: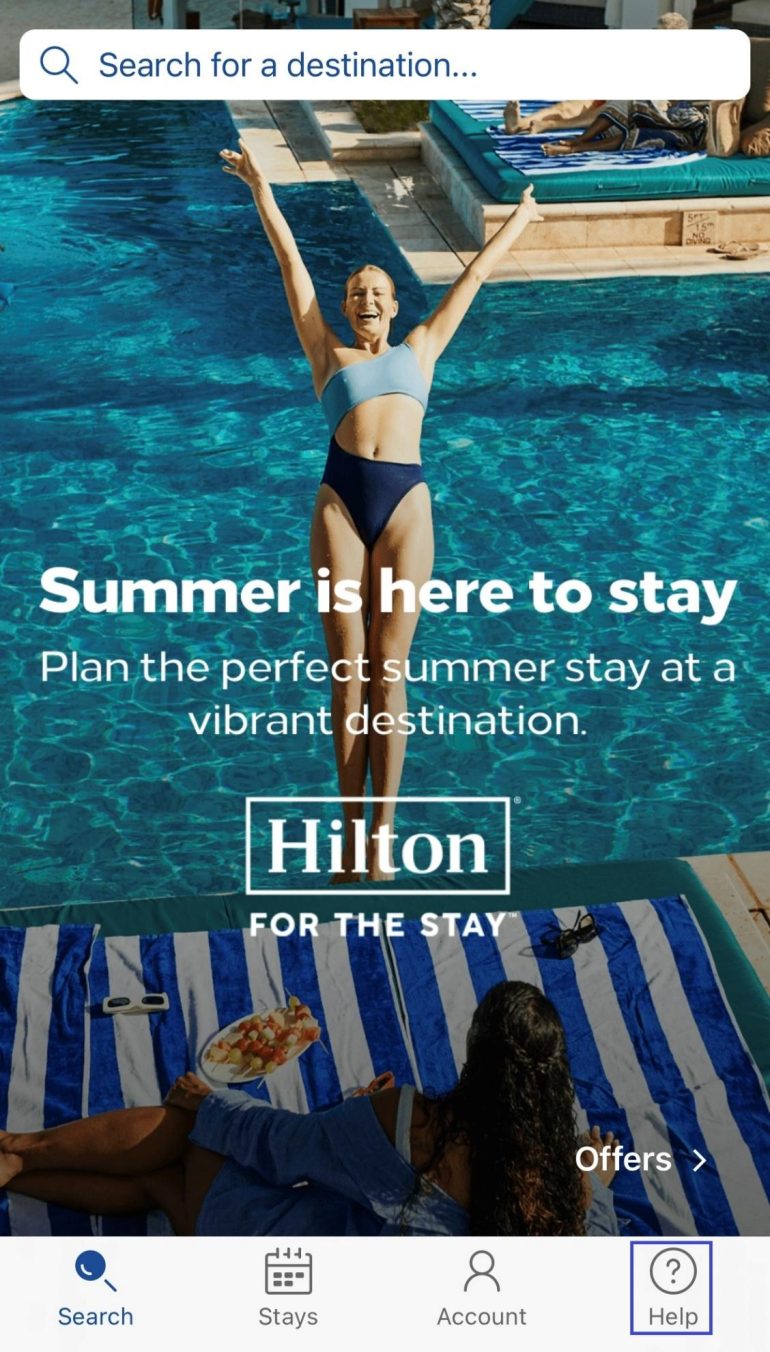 Once you click "Help," you'll be brought to a page with a search box, a list of popular topics and the option to chat with a representative or request a phone call.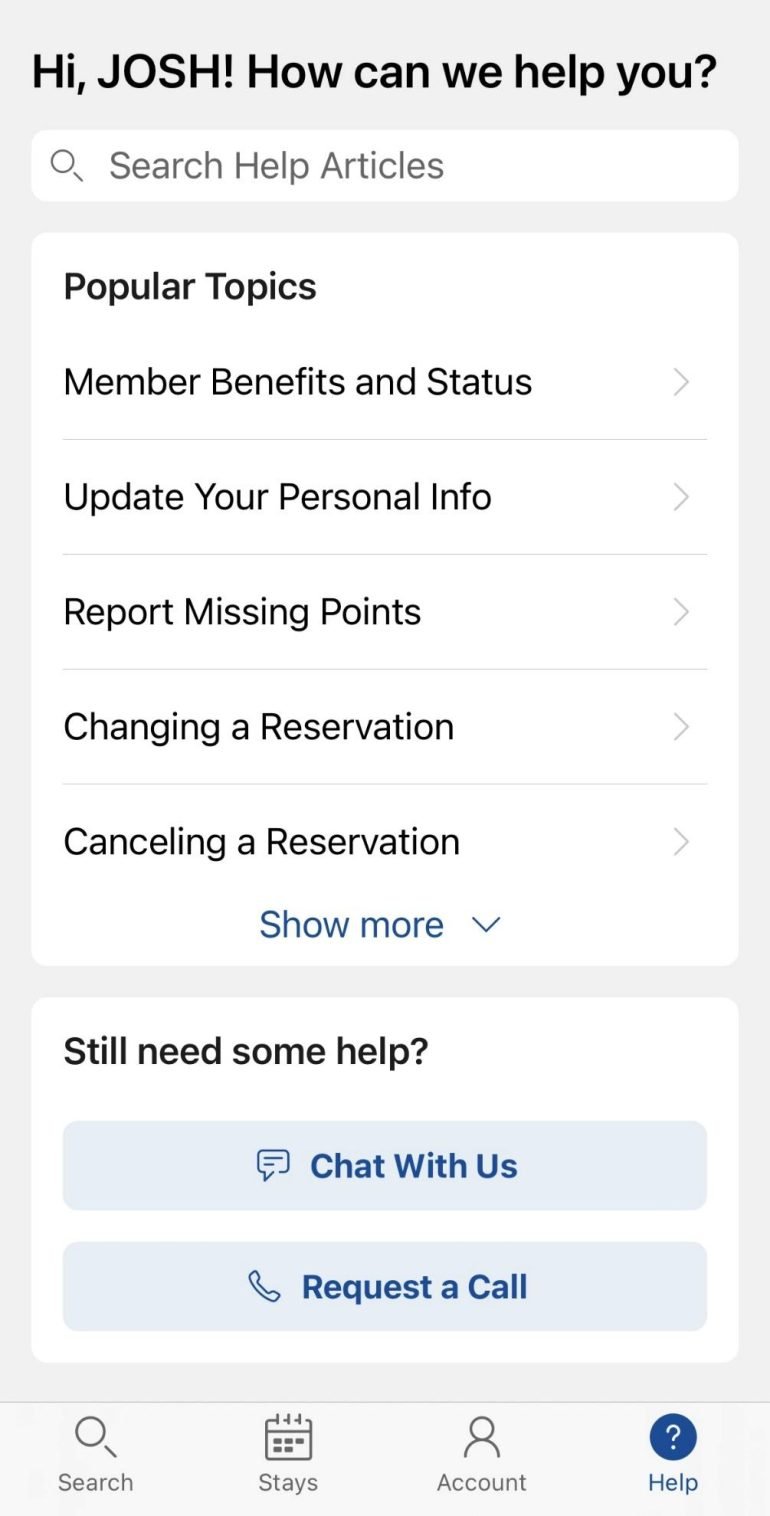 The app is a great way to contact customer service. It provides you with answers to basic questions and allows you to chat directly with a customer service agent on your phone or request a call so you don't have to spend time waiting on hold.
Another feature I love about the Hilton app is that you can contact your hotel directly, starting a few days before your visit. To contact a Hilton hotel directly using the Hilton app, open the app, click "Stays" at the bottom, find your reservation and click "Message hotel."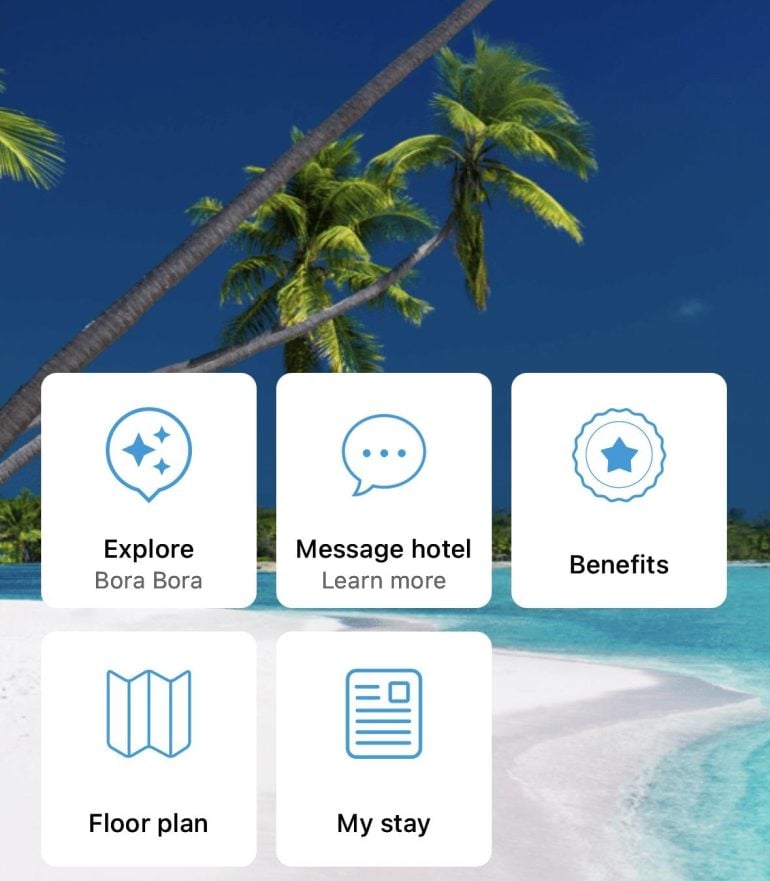 Contacting your hotel directly through the app can be helpful if you have specific requests — like dietary restrictions or an early check-in — or if an issue comes up during your stay.
Contact Hilton customer service by email
Another way to get help is through a Hilton customer service email, but note that you can only do this for Hilton Honors-related requests, like missing points or questions about benefits. There are different email addresses based on region:
Response time can vary and, unlike submitting feedback via Hilton's website, Hilton doesn't give an estimated time frame for when an agent will respond to your email.
Contacting Hilton customer service recapped
There are several ways to contact Hilton customer service, including by phone, online, via the Hilton app and by email.
The best way to contact Hilton customer service will depend on the reasons for your inquiry, how time-sensitive it is, and your preferred method of communicating with customer service representatives.
How to maximize your rewards
You want a travel credit card that prioritizes what's important to you. Here are our picks for the best travel credit cards of 2023, including those best for: