This Post May Contain Affiliate Links. Please Read Our Disclosure Policy here
Looking for an easy way to hang curtains in a rental? This tutorial will help!
Hi friends, it's Courtney here today with a simple tutorial on how to hang curtains with command hooks! But first, thank you for all your kind comments about our baby announcement we shared last week! My husband and I just moved into our new rental townhouse–slowly but surely we've been unpacking and getting settled. We are already loving this space to start this new exciting chapter of life!
When we moved into this house there were no window coverings (the landlord is planning to add shades!) so we decided one of our first little house projects would be to hang curtains. Since we're just renting, we wanted to find a simple way to hang them that wouldn't damage the walls…but would still look pretty!
I shared a peek of what we did on my Instagram stories and I was asked how we hung them, so I'm here to share that with you today. This trick is perfect if you're a renter needing a temporary solution, or if you just want to hang curtains without damaging your walls! No tools required and it took us less than 10 minutes.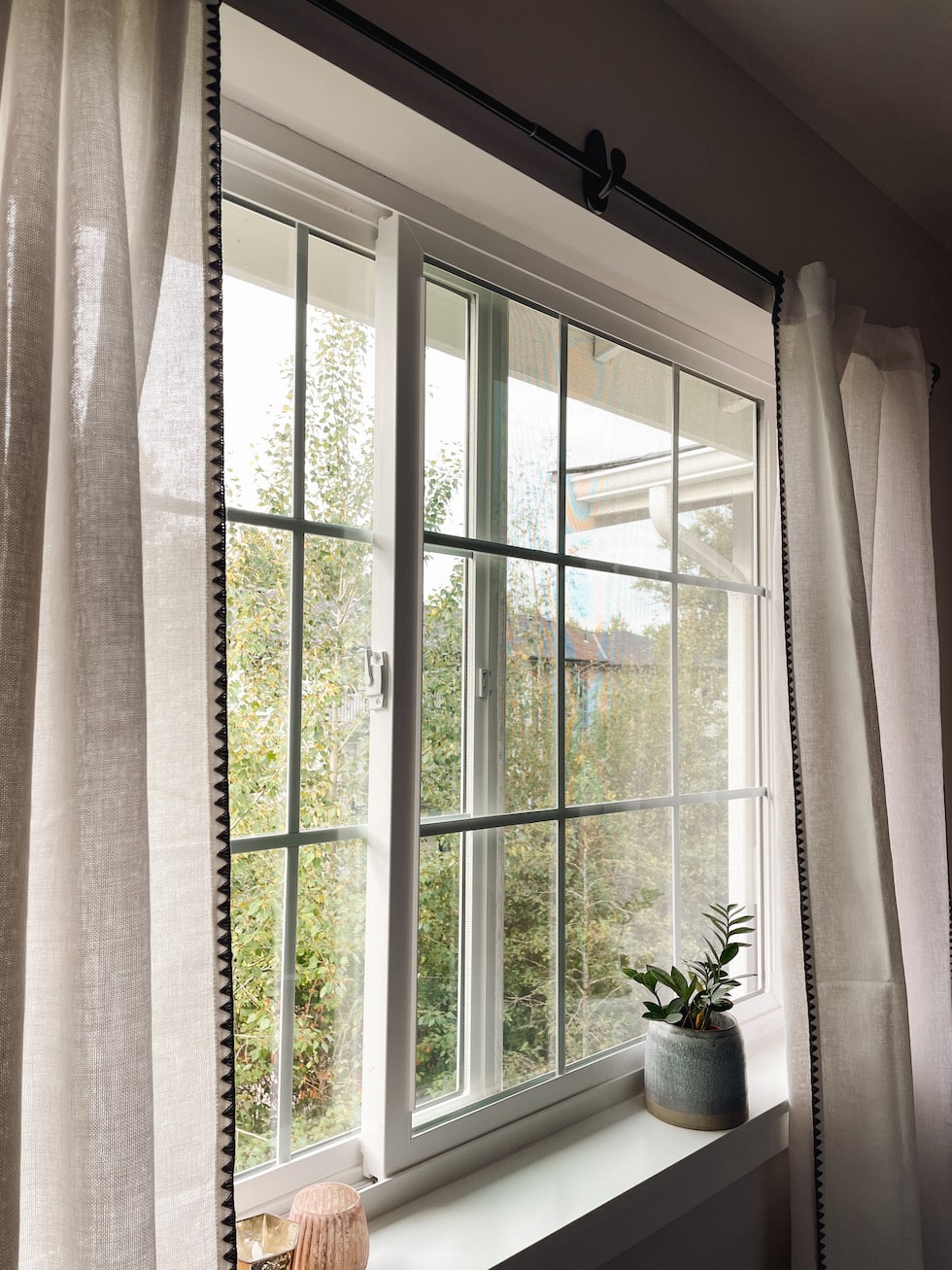 What you'll need:
Jumbo Command hooks (get them at Target here or Amazon here) — They come in multiple finishes and we picked the bronze to closely match our black curtain rod. The amount you'll need will depend on the length of your windows. We used 3 so we got a 2 pack and a single pack.
Command strips (get them at Target here or Amazon here, some packs come with more pairs than others, you'll need a pair per hook) — The jumbo hooks do come with their own adhesive command strips, but we decided to get more heavy duty Command strips separately that can hold up to 16 pounds. We picked the black color to blend in with the black hooks in case they showed at all.
---

---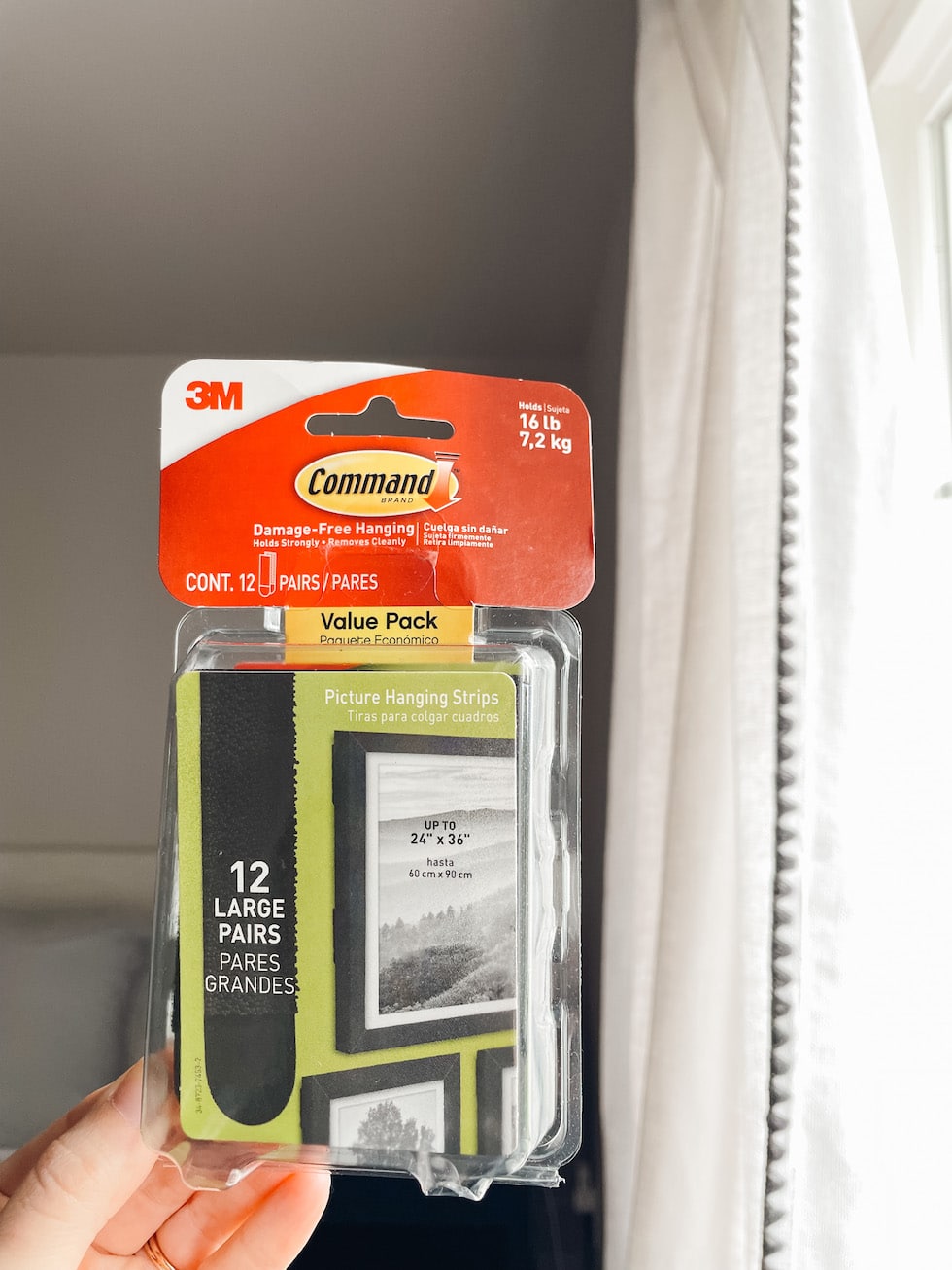 ---
What to do:
Wipe off the wall around where you'll be hanging the hooks (use rubbing alcohol or just a dry cloth). Make sure the wall is dry (and not just freshly painted!) before you hang.
Determine the best placement to hang your Command hooks and mark the spots. We placed ours so that our curtains would just brush the floor. We hung 3 hooks to make sure it was extra secure and supported all the way across (one on either side and one in the middle), but on a smaller window you might get away with just two on either end.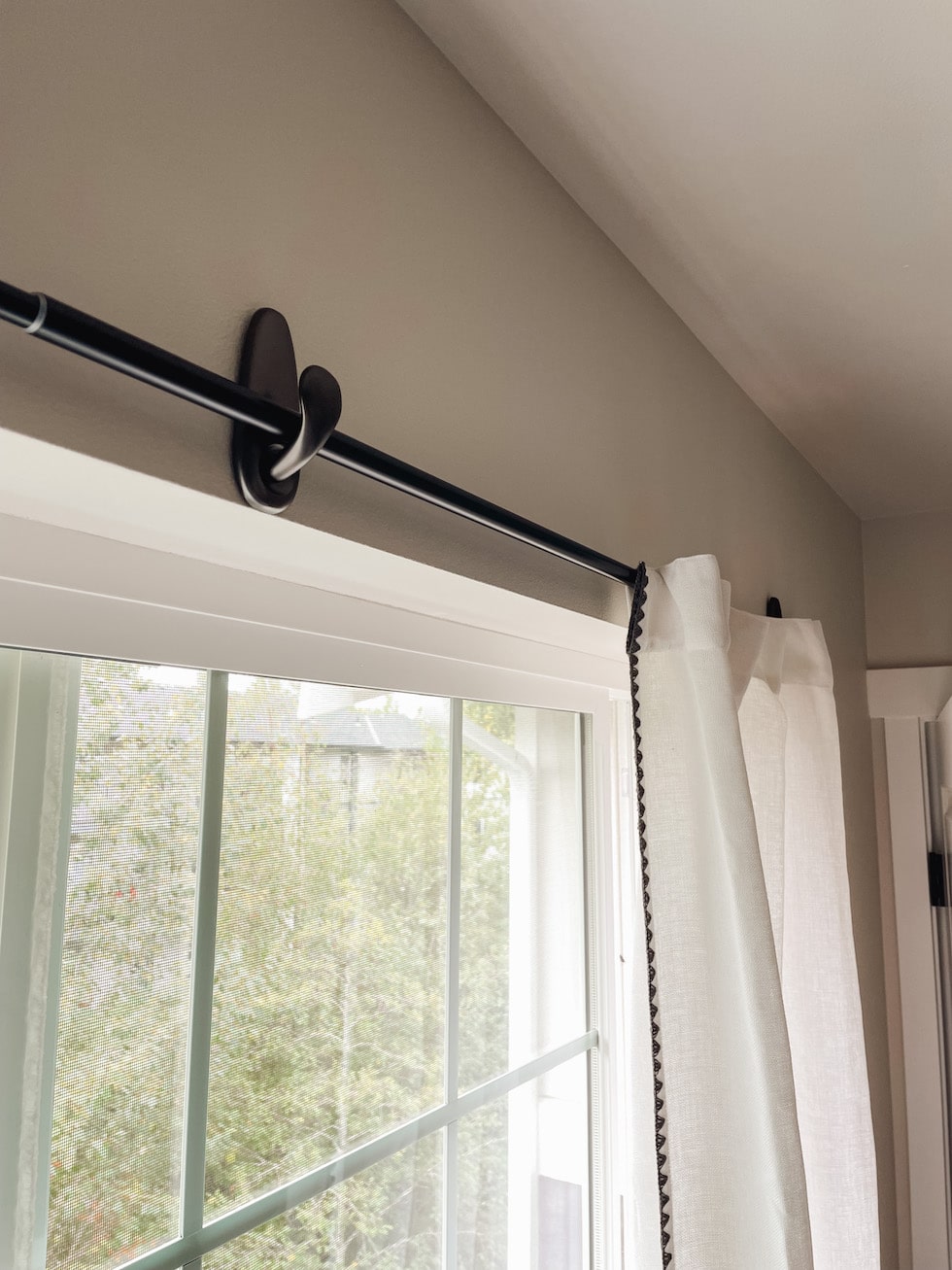 Attach the Command strips to the back of the hooks (follow the instructions on the box) and remove the adhesive when you're ready to hang the hooks.
Hang the hooks on the wall in your marked spots. Press each hook into the wall for about 30 seconds.
String your curtains onto your curtain rod and gently hang it up onto the hooks! Ideally wait an hour if you want to give the hooks more time to adhere to the wall, but we were impatient and hung our rod right away with no problems.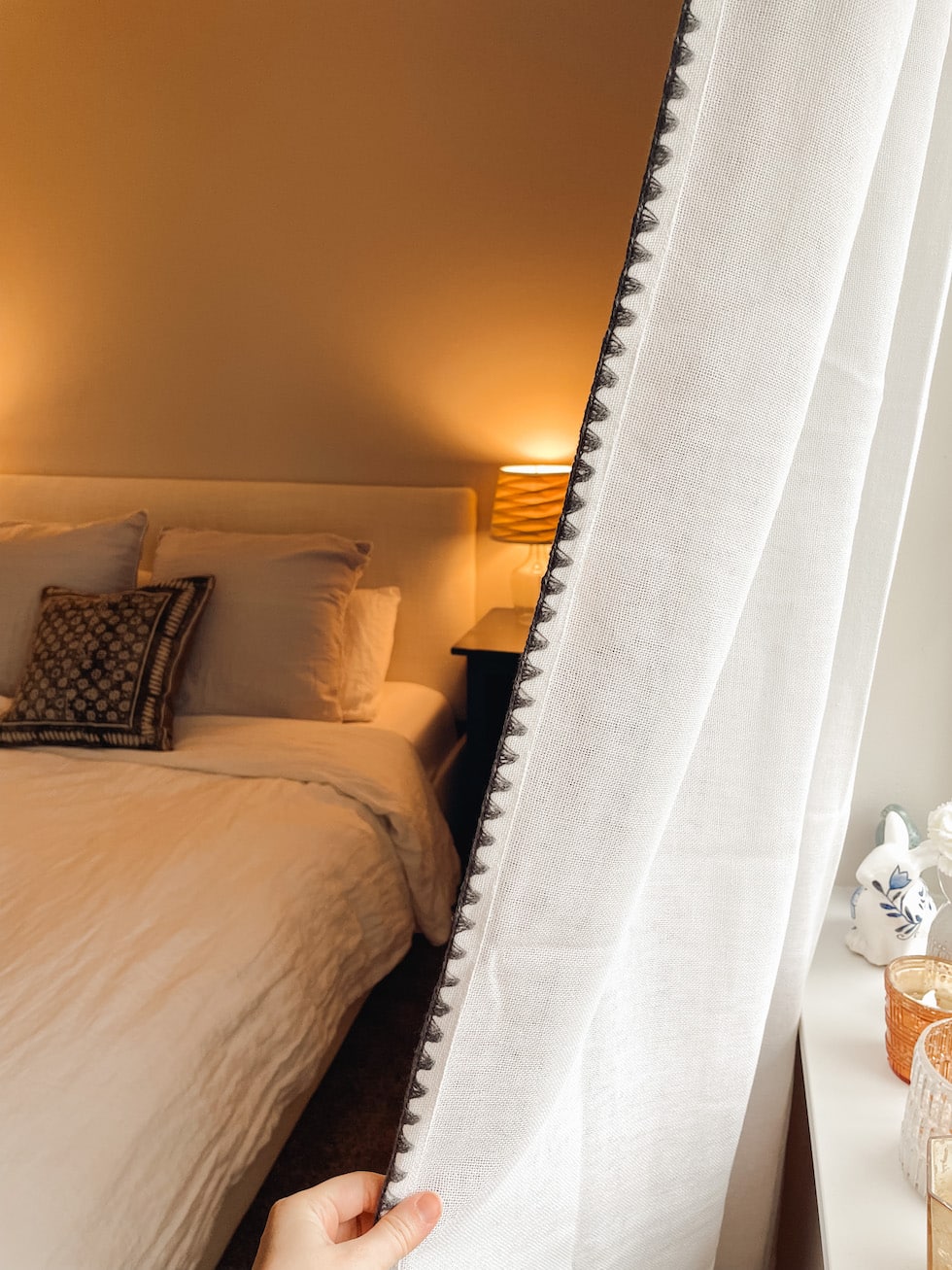 And that's it! Quick and easy. Let me know if you try this, I had never hung curtains in a rental before but am so glad to know this new trick now!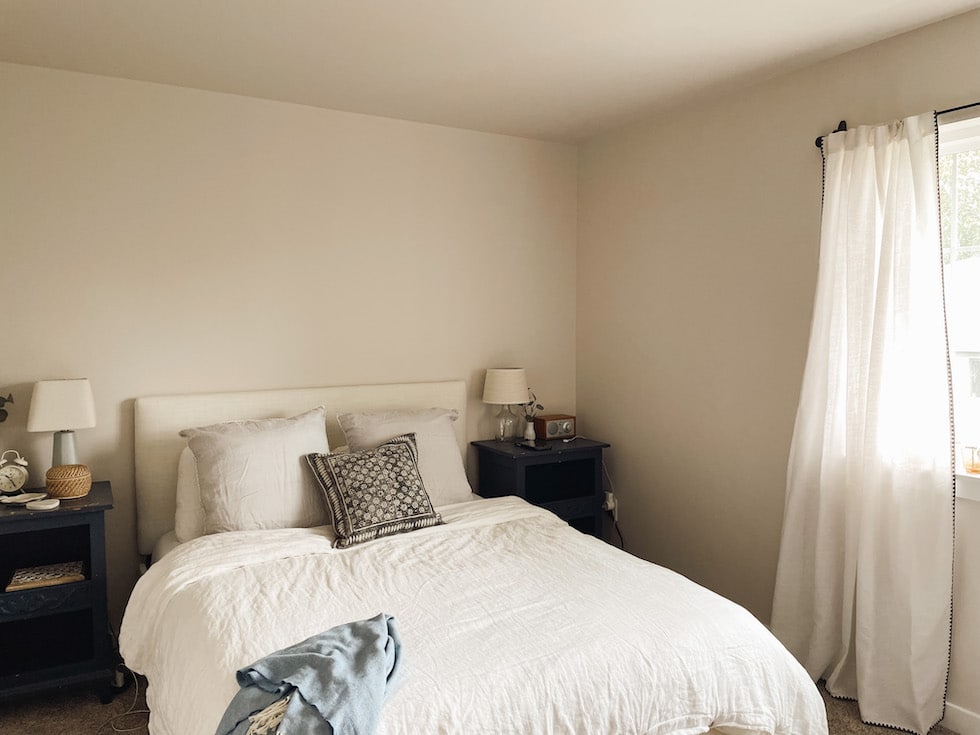 Our room already feels so much cozier with the curtains, but it is definitely a work in progress (we just got our bed all set up after sleeping on a mattress on the floor for a week or so!). Next I'm excited to hang some art in here. The nightstands need a little paint refresh too (they used to be my grandma's and have been passed around the family for years!) so that's probably an upcoming project. 🙂
I will share more townhouse updates here as we continue to get settled in! In the meantime, feel free to follow me on Instagram for more of my home and life!
More Posts by Courtney:
5 Clever Ways to Make a Small Space Cozy and Inviting (Courtney's Apartment)
Courtney's Apartment Tour (500 Square Feet!)
Courtney's Small Apartment Bedroom
Courtney's Seattle Studio Apartment Tour
See ALL posts from Courtney here.