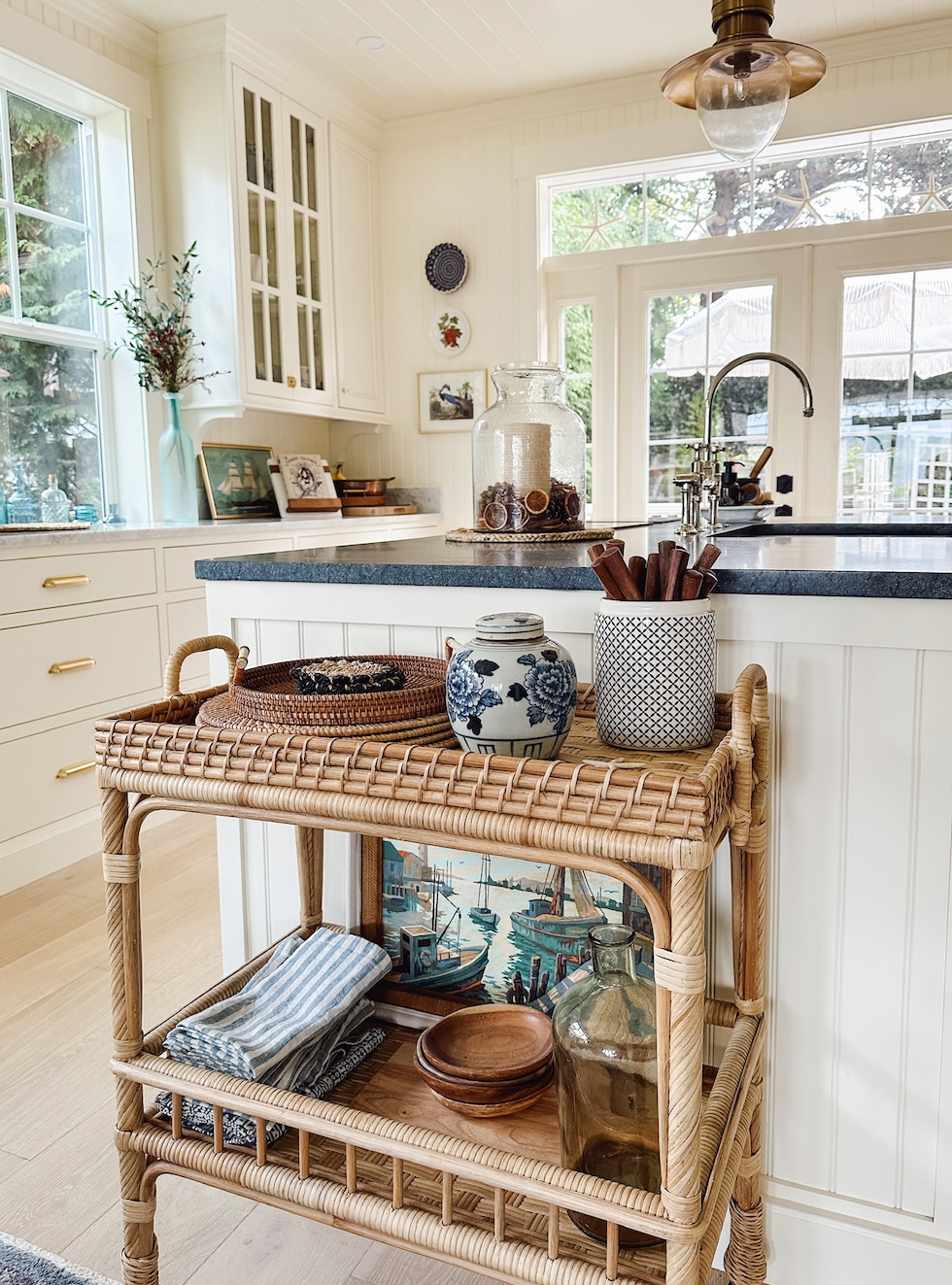 A few weeks ago I had an epiphany that led me to (unexpectedly but excitedly) buy a rattan serving cart! I am SO thrilled with it! The truth is I didn't plan to add ANY furniture (except our dining table and chairs) when we designed our kitchen and dining room.
Sometimes you don't really know how a room will come together until:
1) you start trying various arrangements, or
2) you're in it (not just looking at it on paper)
That is how this rattan serving cart ended up in this special spot in our home! It was meant to be. Today I'll share more about this serendipitous addition to our kitchen and dining area, why it works well for us, how we'll use it and what this added piece brings to design-wise our space!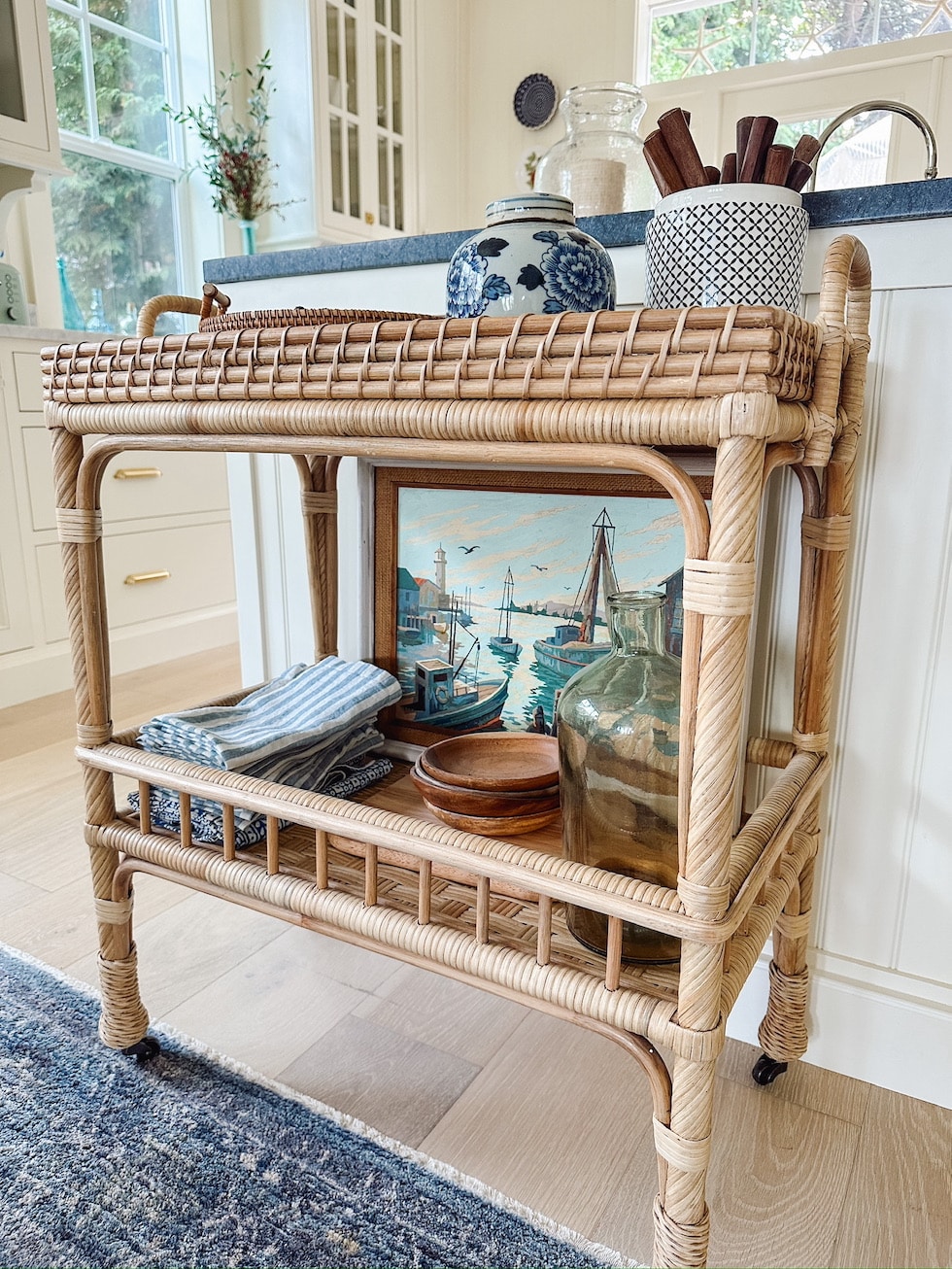 While I love free standing furniture for storage and adding character to a room, as we were designing our kitchen and dining room we realized it really wouldn't make sense to incorporate furniture (other than the table and chairs). We didn't have many walls to work with (all of the three main rooms are smallish and open/connected to each other, plus two of the walls are filled with French doors), so we chose to use the available wall space in the dining room and kitchen for built-ins.
This decisions and arrangement really helped us to maximize floor space, as well as improve storage and function in an "open" layout, and I can't wait to share more of the details and the whole renovation in the reveal!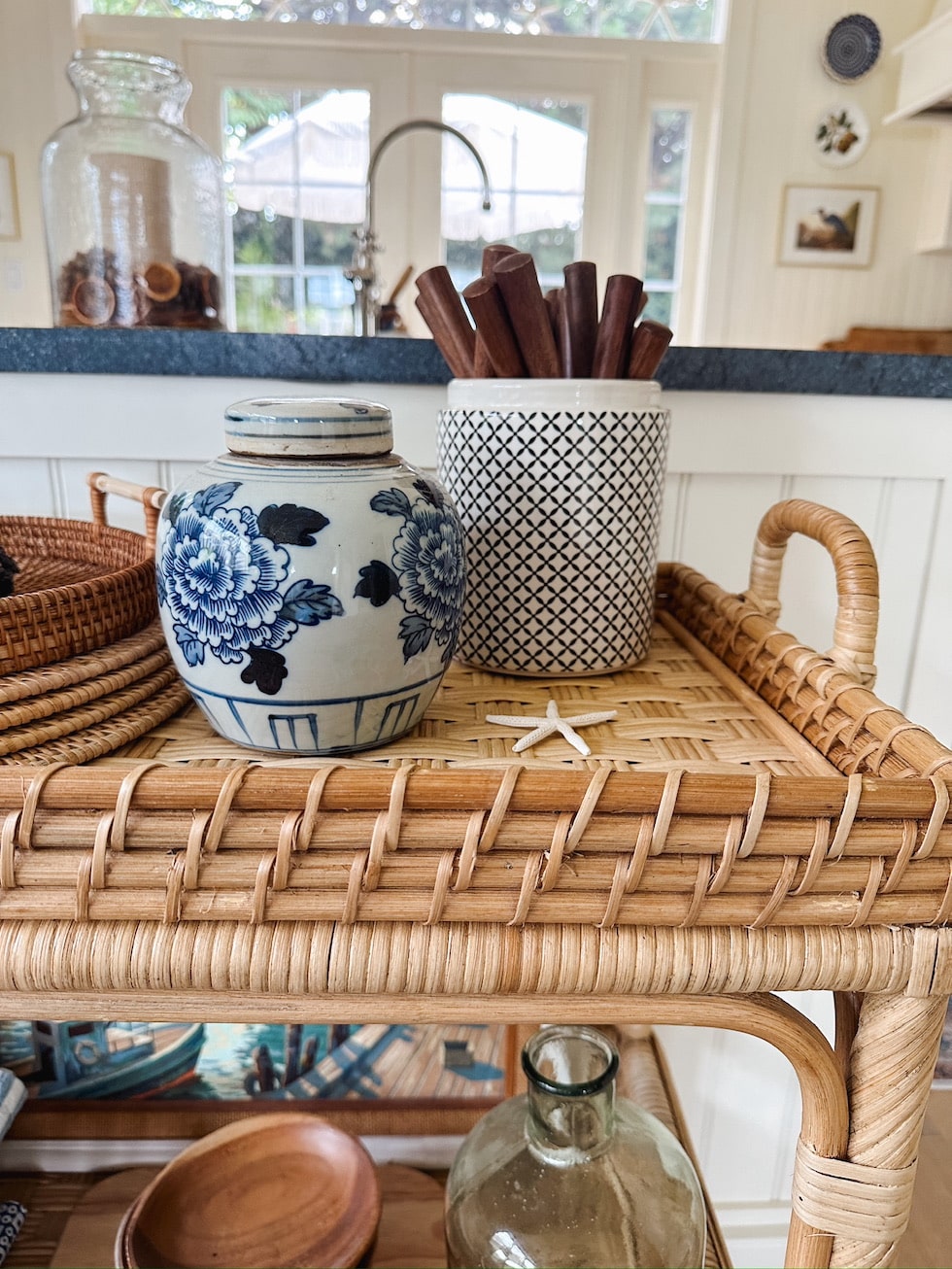 As I mentioned, the rattan cart wasn't in the original design plan. Yet it serendipitously turned out to be the perfect piece for our room and looks so charming with the island, too! I love when a room comes together organically. I always expect a space evolve as we live in it, but that means you don't always get to know in advance exactly how that will happen. You have to TRUST it will come together in time! And often if I'm patient, slowly but surely room will reveal to me what it wants :).
A few months ago I did an inspiration blog post on rattan bar carts, never imagining at the time that we would ever have room for one ourselves!
I knew I loved the look and had seen so many ways to use rattan carts (plus my mom had a rattan cart in her home for YEARS!), so there was no question I would love one in my home. Yet it wasn't until I was finally standing in my new dining room one day, observing the space we had available that I could imagine how a small cart would be perfect. It would not only work space-wise with the table and chairs in place, but feels like a "meant-to-be" design decision!
To be certain we would like it there, we brought in a similar cart (the one we got this summer for the porch). It wasn't the right size (just a wee bit too big, but every inch counts), but it confirmed that we would love a similar piece in that spot. Now if we could find just the right size, color and shape we'd be set!
I was so excited because I immediately found a rattan serving cart that checked all of the boxes, so I ordered it on the spot (and bonus I had a $50 credit and it was on sale!). MEANT TO BE!
It is really is a wonderful addition to our kitchen/dining area in so many ways. Not too big, not too small. I love how it brings a subtle shift and connection in the function from the "kitchen side" to the "dining area." It also brings together and adds to all of our warm toned textures, from the cutting boards and the wood flooring to the metal fixtures over the island. I also love the way it contrasts with the natural stones and soft creamy cabinets. It feels just right, so warm, homey and inviting, like I planned for it to be there all along.
I think many times, that's the best way to design a room. It can turn out even BETTER when you don't plan every detail to begin with! It is fun when you find that unexpected piece, or there is an element of surprise with how it came together, or when you simply have the joy of watching it evolve and become your own over time.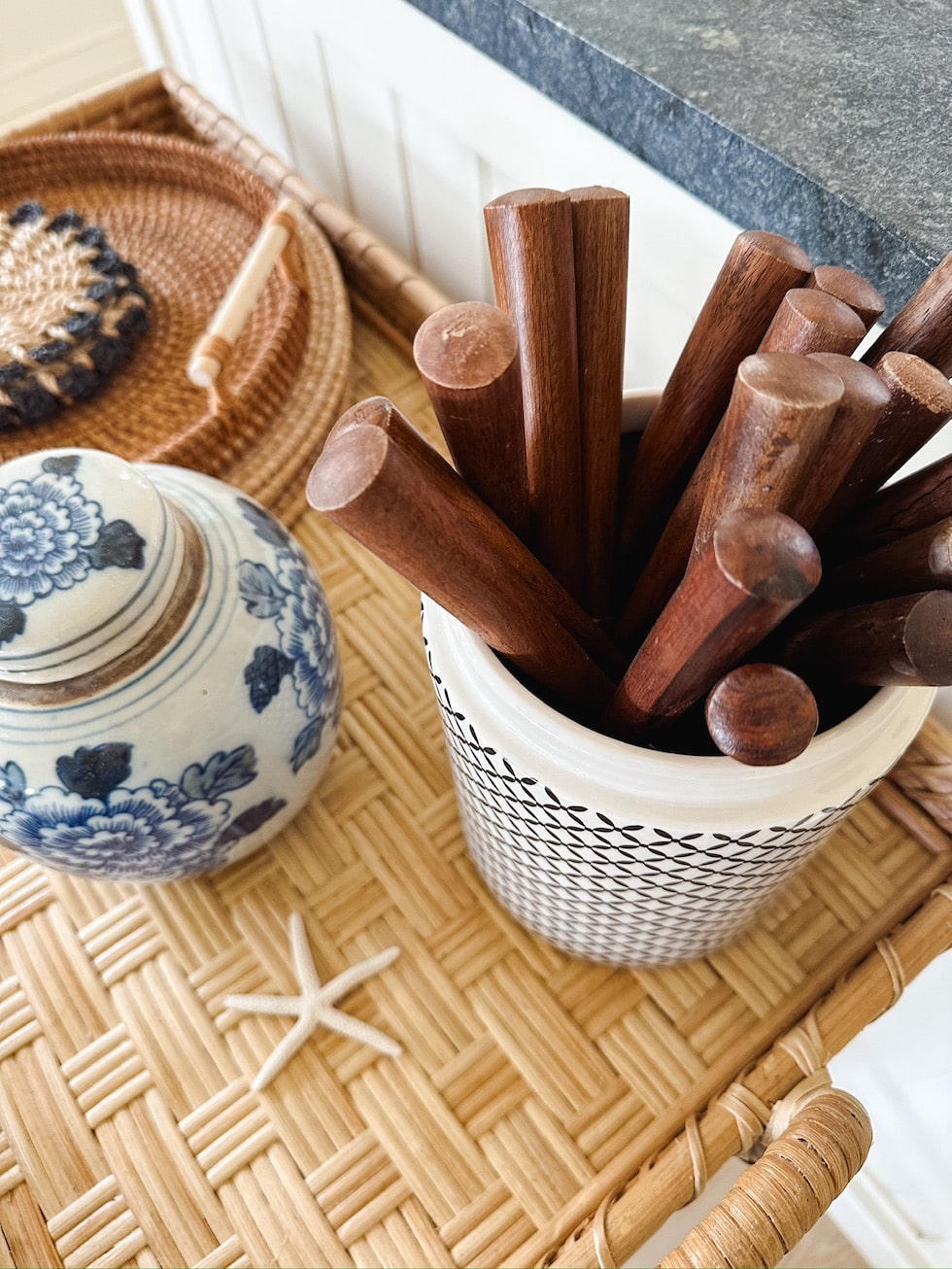 This is what I hoped for in our kitchen. I wanted the overall design to feel welcoming, classic and timeless, as if it always been here in our family. Yet in order to feel like it's truly always been with us and will be for years to come, it would naturally evolve because we would enjoy it and live in it.
While it's a new kitchen and a new serving cart, every day it's feeling more and more like a family home we've always loved and always will.
So how will we use the rattan cart and what is on it now?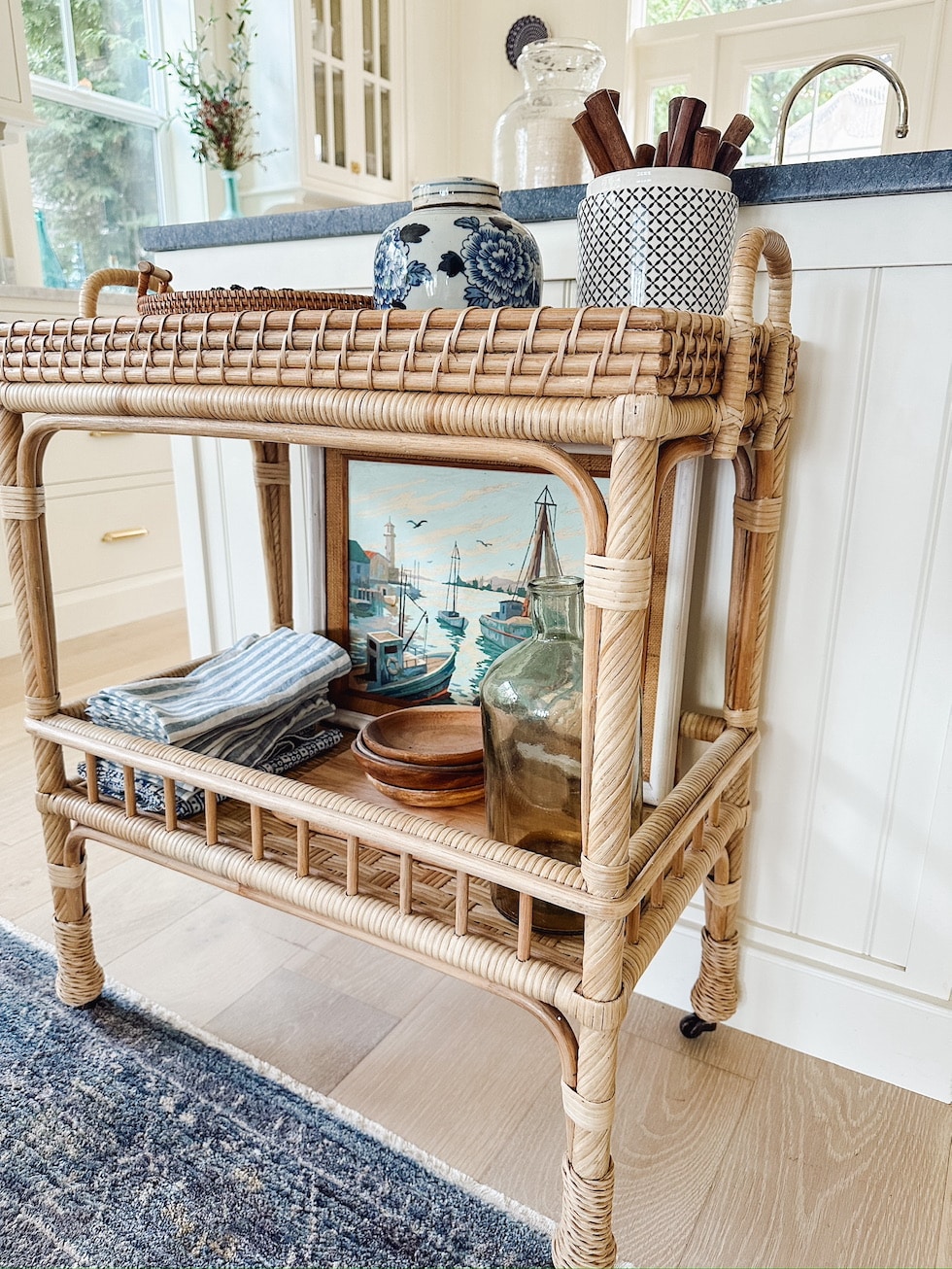 I can't wait to use this rattan cart in different ways and of course, share it with you each season. Besides looking really cute, it is so handy to hold things we may need day to day, like a stack of cloth napkins, our favorite little trays and various trivets, some coasters, a small wood cutting board, a vase for flowers and wood flatware that not only looks so pretty on display but it handy to grab from the table. Plus it is fun to be able to lean art (which we did on the lower shelf!) or set potted plants, display seasonal decor or foliage, or even to set up with dishes or desserts to serve at family gathering! We can also move the cart around to other places as needed.
Happy start to the fall nesting season, friends! We're enjoying getting more settled and comfortable in our home every day. It's the ideal season for all things cozy, so stay tuned as I'll have so much to share with you! Thank you for being here!

Rattan serving cart (on sale!)
Striped blue and white cloth napkins
Round rattan trays
Blue and white ginger jar (see more of my blue and white favorites on Amazon here)
Similar wood handle flatware
Woven charger placemats (see more woven chargers and other entertaining supplies in this folder of my Amazon shop)
Blue rug
Brass ceiling light (see our kitchen design mood board here for more sources)
Black and white pattern crock is an old kitchen canister, out of stock but find similar in this Kitchen Jars & Canisters folder
Cabinet color: Classic Light Buff Sherwin Williams
Flooring: real European White Oak hardwood, engineered. I unfortunately don't have a link to them — they were purchased through a local store and have no brand name I can find online.
See our most recent renovation update here.

Rattan Bar Carts inspiration rooms
My flea market find rattan shelf (still have this, now in our guest room!)
My rattan daybed (this is now in our Snug which has been recently rearranged after getting new floors, I'll share that soon!)
Inspiration: Rattan and Bamboo Accent Furniture
My "Rattan Love" Pinterest board with inspiration photos
My outdoor serving cart (+ simple gathering inspiration)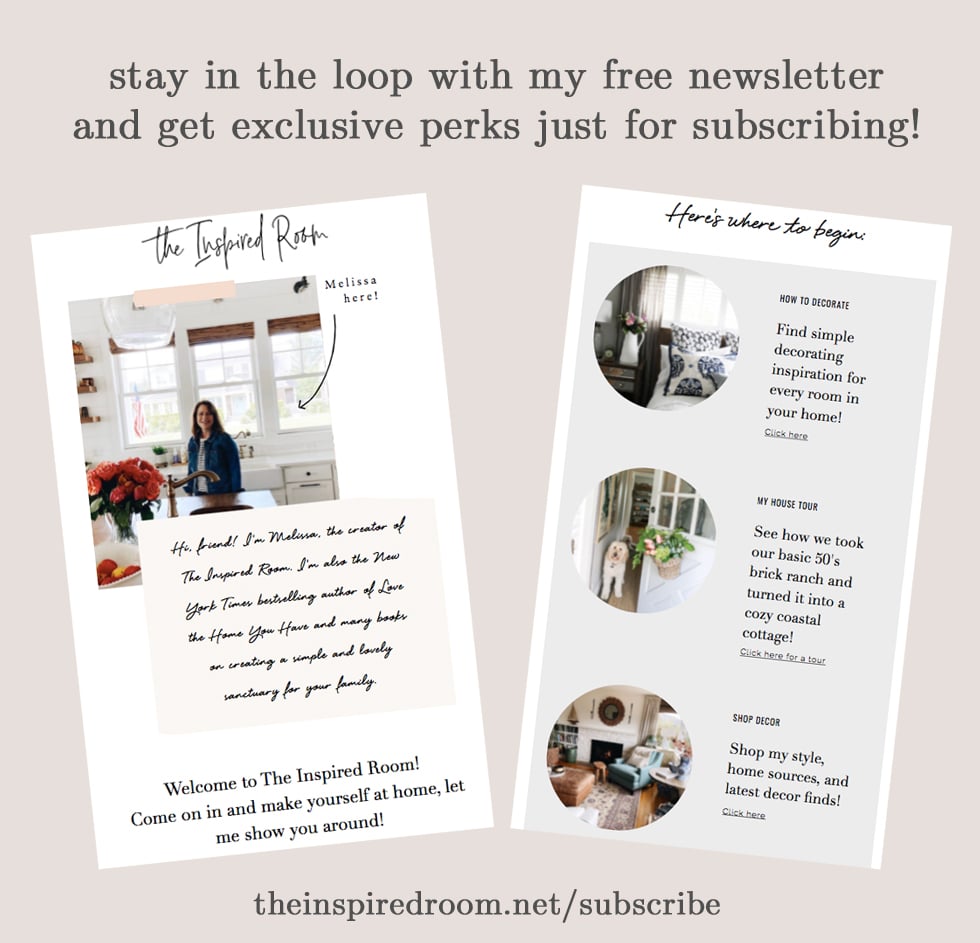 Subscribe to my newsletter to receive home inspiration and encouragement right to your inbox!