Whether you're interested in lounging on the beach, sipping endless daiquiris or dipping in an infinity pool, all-inclusive resorts can be an excellent option for a relaxing trip.
But these types of resorts can be incredibly expensive, even when using points.
Happily, there's another way to save money and points when booking your all-inclusive vacation. Let's take a look at how you can use a credit card travel portal to book your next all-inclusive trip.
Why book an all-inclusive stay?
You'll generally find two camps when it comes to all-inclusive resorts — there are those who swear by them and the ease that they afford and those who aren't big fans.
Regardless of your opinion, there's no denying that all-inclusive hotels can make your vacation planning simpler.
Because food, drinks, amenities and even activities are often included, they act as a one-stop shop for all your needs. This can provide a great respite to the stressed-out traveler looking to spend as little time as possible managing the logistics of a trip. Plus, you know, there are endless daiquiris.
Use a travel portal to book your all-inclusive stay
Most of the time, using points and miles can be an excellent way to lower vacation costs. This is true even when booking a stay at an all-inclusive resort.
But all-inclusives are a unique breed when it comes to redeeming points. You'll nearly always pay a very high price in points, even when the cash cost doesn't quite match. Though we don't always recommend using a credit card issuer's travel portal to redeem your points, in some cases it can be worth it.
We compared all-inclusive stays in two locations to see how much it would cost using cash, transferring points to a loyalty program or booking through a travel portal.
Example 1: Booking a stay in Cabo San Lucas
Our first example here focuses on Cabo San Lucas, Mexico, which has a broad array of all-inclusive hotels.
Booking an all-inclusive stay using cash
Hyatt has quite a few all-inclusive properties in its portfolio, including the ever-popular Ziva and Zilara brands. A three-night stay in October at the Hyatt Ziva Los Cabos, which is all-inclusive while also being family-friendly, will cost you $1,211 including taxes and fees. This is the price for two adults.
Booking an all-inclusive stay using hotel points
You can choose to redeem World of Hyatt points for this stay. The same three-night stay in October will run you 25,000 points per night for a total of 75,000 points.
Note, however, that Hyatt's award calendar has three pricing tiers, and the amount of points needed varies during peak and off-peak seasons. That means this hotel can cost as much as 35,000 points per night during popular travel times.
Chase Ultimate Rewards transfer over to World of Hyatt at a 1:1 ratio, which means you'll need a total of 75,000 Chase Ultimate Rewards points for this booking.
Booking an all-inclusive stay using travel portals
What happens if we take a look at the Chase travel portal instead? If you have the Chase Sapphire Reserve®, you'll be able to redeem your Chase points at a rate of 1.5 cents each. While you can often get more value from your points by transferring them out, non-chain all-inclusive hotels in the portal tend to represent a much better option.
Here's a look at the Pueblo Bonito Pacifica Golf and Spa, which is a luxury resort that is both all-inclusive and for adults only. Three nights here in October will cost you 70,112 Chase Ultimate Rewards points — 4,888 fewer than you'd spend on a stay at the Hyatt.

Example 2: Booking a stay in Puerto Vallarta
Puerto Vallarta is another popular vacation destination in Mexico that's full of all-inclusive resorts, including options from all the major hotel chains.
Booking an all-inclusive stay using cash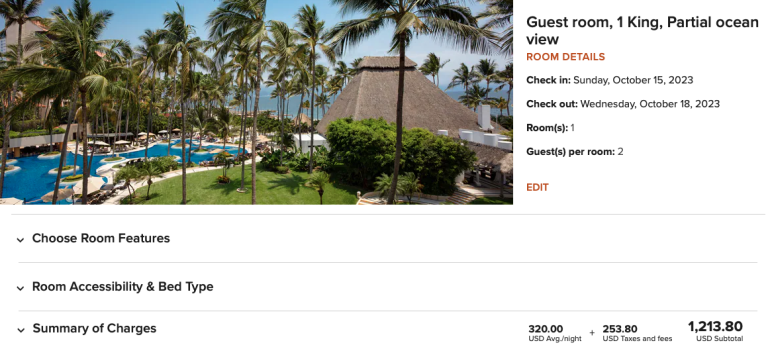 Booking an all-inclusive stay using hotel points
If you want to use hotel points for a stay at the Westin Resort and Spa, it'll cost you 97,000 Marriott Bonvoy points when booking directly with Marriott.
However, Marriott doesn't let you book the all-inclusive rate when redeeming points. This means you'll need to pay 97,000 points for the three nights and you're still on the hook for food and beverage costs.
That said, if you still want to book the stay using points, Chase Ultimate Rewards points transfer over to Marriott at a 1:1 ratio, while American Express Membership Rewards transfer at a rate of 2:3. Terms apply.
Booking an all-inclusive stay using travel portals
Moving back to the Chase travel portal, let's look at the Westin again. Because stays booked through travel portals are considered paid stays — as opposed to award nights — it's possible to both redeem points and receive a full-board stay.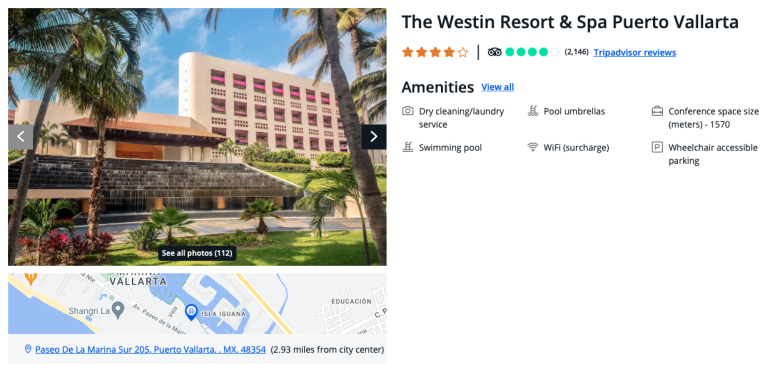 Again, those holding a Chase Sapphire Reserve® card can redeem their points at a rate of 1.5 cents each. In this case, you'll need to redeem 76,160 Chase points for that same stay — which includes food and drinks.

Even better for Capital One cardholders, you can opt to pay for the stay in dollars with your card, then redeem miles against the charge. This allows you to double dip by both earning and redeeming miles at the same time.
This means that if you hold the Capital One Venture X Rewards Credit Card, you could earn 10x points when you pay with your card, earning 5,260 miles from this stay. If you then use points to reimburse yourself the expense, it'll drop your out-of-pocket cost to just 47,337 miles total.
🤓Nerdy Tip
The Capital One Venture X Rewards Credit Card also comes with a $300 annual travel credit for bookings through its travel portal, which can further drop your costs.
Using a travel portal can save you points and money
It's rare that we recommend using a travel portal over transferring out your points, but all-inclusive hotels are one of the exceptions to the rule.
Do your research before transferring points to be certain that you're getting the best deal — even when it means booking via your credit card's travel portal.
How to maximize your rewards
You want a travel credit card that prioritizes what's important to you. Here are our picks for the best travel credit cards of 2023, including those best for: